Spaced Out
(also known as
Space Out
) is the eighteenth episode in
Season 3
of
JESSIE
 and the 70th episode overall. It aired on July 25, 2014.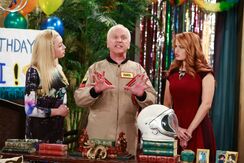 Plot
Ravi's birthday present from Christina and Morgan is a trip into outer space. Things go awry when Ravi is left behind and Jessie, Emma, Zuri, and Luke are on the locked shuttle. Ivan, Bertram, Ravi, and Mrs. Kipling must come to the rescue. At the end, Ravi realizes the whole ordeal was a dream.
Summary
TBA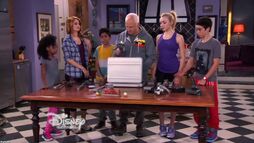 Cast
Main Cast
Guest Cast
Quotes
Jessie:
Don't worry. We're going with a highly trained astronaut.
Ivan
: Fantastic! Who did you find?
Jessie:Uh,you?

Ivan
: Me? No, no, I not going.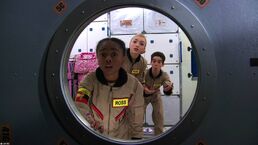 (ship takes off)(all scream)
Jessie: Could you pass me the bathroom?

Zuri
:
Ocupado
!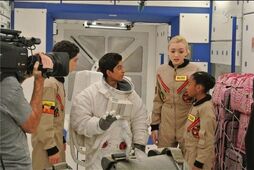 Zuri
: Are we there yet? Are we there yet? Are we there yet?
I.V.A.N.
:Quit it!
Zuri:OK. I'm thirsty! I'm thirsty! I'm thirsty!

I.V.A.N
:Do not make me turn this spacecraft around!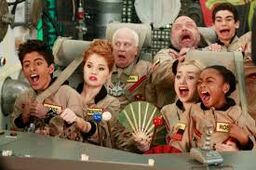 Zuri:What's with the flashing lights?Emma:Club Deep Space in the house,y'all!
(ship takes off,Ravi vomits)(ship reaches space,Ravi continues vomiting)
(parachutes land in water)

Ravi
:That was awesome! (vomits again)
Trivia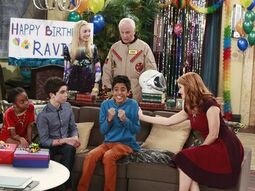 This episode aired as part of Disney Channel's Out of this World weekend.
This is the first time an astronaut appears on Jessie, and the theme is space.
Many stations show the title as Space Out.
This episode was just Ravi's dream, however, he did the same thing as his dream but barfed.
Mypos is also the name of the island near Greece near the Mediterranean Sea, which was introduced in the 1986 ABC series "Perfect Strangers".
Since the majority of this episode was a dream, it's unknown what part of the beginning of the episode was real.
Ravi's hairstyle is that of Season 4, even though there were eight episodes remaining in Season 3.
Ivan refers to the movie Space Odyssey as a documentary, when he explains why they (foolishly) had no experienced people on the shuttle.
Goofs
Ivan makes everyone exercise because apparently you have to be fit to go into space but Bertrum goes into space despite being very overweight. However, it was a dream.
In the rocket, they should have been wearing proper protective space uniform so they could breathe.
NASA could easily be sued for almost dooming 4 kids without a spaceman.
Gallery
| | |
| --- | --- |
| | To view the Spaced Out gallery, click here. |
Transcript
To view the Spaced Out transcript, click here.
References
Videos
International premieres
August 31, 2014 (Brazil)
September 21, 2014 (Latin America)
Community content is available under
CC-BY-SA
unless otherwise noted.