Officer Petey



Officer Petey

Gender
Male
Nationality
American
Hometown
New York
Professional Information
Profession
 
Police Officer
Officer Petey is a recurring character on Jessie. He is played by Joey Richter.
History
He is known for his improv obsession. This is demonstrated when he tells Jessie "I can use some of my improv skills. I take a workshop on the weekends." He also is known for not being
particularly helpful as a cop. For instance, when Jessie is trying to pull Zuri off of a tree screaming, Petey just says "Well it looks like you've got this handled" and walks away. It is revealed in Pain in the Rear Window that he never went to the police academy (which explained so much according to Jessie). He shows up twice in Badfellas, first trying to report Emma and Vincent, and later in the park telling Jessie that Zuri wouldn't leave the tree. He is also mentioned once in a phone call Jessie has to him but does not have an appearance or a speaking role. He returns in Cattle Calls & Scary Walls. He also has a little brother named Ricky who won Class President from Vincent's help. Petey also made Tony jealous in (Green-Eyed Monsters) when he took Jessie to an improv class.  He is really desperate for his first arrest, even trying to arrest a squirrel, only to be mauled by it. He fell in love with Agatha in Pain in the Rear Window, but changes his mind when he found out that the mole and tooth from her are real, instead he was scared of her.
Appearances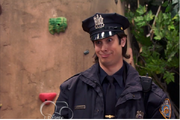 Season 4
Community content is available under
CC-BY-SA
unless otherwise noted.