Morning Rush is the sixteenth episode in Season 3 of JESSIE and the 68th episode overall. It aired on June 27, 2014. This episode was seen by 3.353 million people.
Chaos ensues when Jessie only has half an hour to get the kids ready for school. Assignments must be finished and Emma must find an outfit she's happy to wear!
Main Cast Edit
This episode aired at 7:30 instead of it 8:00 due to "Zapped" premiering that time.
It was revealed that the kids' school day has 6 periods.
At the end, It was revealed that there was no school that day for Parent/Teacher Conferences and Jessie had to go to school.
Emma's guys she was going to ask out where named "Blake" and "Michael". This may be a reference to an actor Blake Michael who portrayed Tyler James on Dog with a Blog. Also, Blake is mentioned to be dating a girl named Fiona in "The Ghostest With the Mostest".
The whole episode takes place in the Ross Family's Penthouse.
This is the only episode in which Jessie gets really mad and angry at the Ross kids.
This is the second episode without any guest stars. The first is in "The Jessie-nator: Grudgement Day".
Kevin Chamberlin who plays Bertram Winkle directed this episode.
Jessie said at the beginning the bus leaves in 30 minutes, which references the runtime of a single episode (counting commercial breaks).
Emma's predicted baby with Blake is never actually shown.
Jessie said that she didn't get A's most of the time, but according to the 1st few episodes, she was getting straight A's.
How fast did Emma make her pro and con list?
Earlier in the episode, Jessie said to Emma "You do know that you are one more tardy away from being suspended?". But later, Jessie screams "How did you get expelled already? You just left." Did something happened in the episode where the principal told Jessie that they had to be here on time or they will be expelled?
TranscriptEdit
To view the Morning Rush transcript, click here.
Luke
: I have girl eyebrows!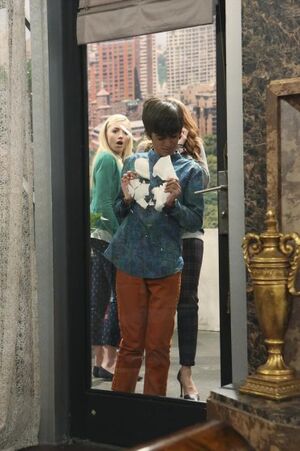 (Emma comes down the stairs)
Emma
: I don't have anything to wear!
Zuri
: You're all eating my homework!
Jessie:I'm not going to yell, I'm not going to yell!
(Screams in the elevator)
(Kids move their shoulders and smile and walk away)
| | |
| --- | --- |
| | To view the Morning Rush gallery, click here. |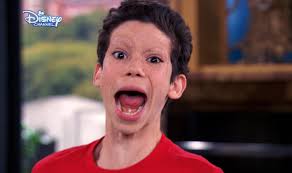 ReferencesEdit