Morning Rush is the 16th episode of Season 3 of JESSIE and the 68th episode overall. It aired on June 27, 2014. This episode was seen by 3.353 million people.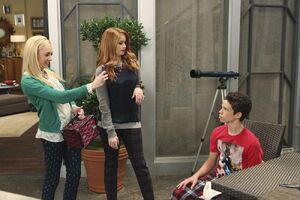 Plot
A real-time countdown begins as Jessie races against the 30-minute clock to insure the Ross kids get to school on time, despite the countless obstacles that arise.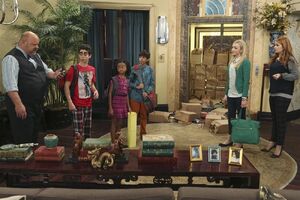 Zuri has a problem with her project, Ravi needs help on his project, Emma cannot find any clothes that are perfect, and Luke has lost his eyebrows after wearing Ravi's project. Emma and Zuri fix Luke's eyebrows and the kids are ready to go to school, but then they realize it's Conference Day, so they tell Jessie to go to school and get prepared like the kids do, but Jessie acts like the kids.
Cast
Main Cast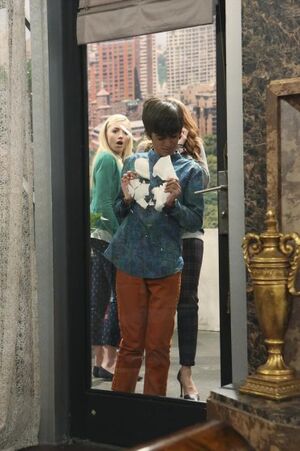 Guest Cast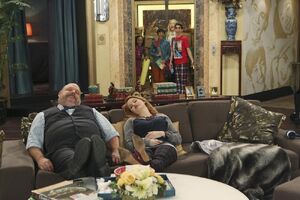 N/A
Trivia
This episode aired at 7:30 instead of a usual 8:00/8:30, because at 8:00/8:30 it premiered "Zapped" and then released the new series, "Girl Meets World".
Jessie might be showing off her fast skills in this episode.
There are no guest stars in this episode,just like The Jessie-nator: Grudgement Day.
It was revealed that the kids school day has 6 periods.
Transcript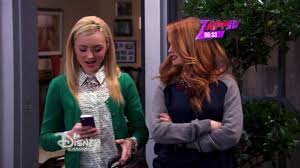 To view the Morning Rush transcript, click here.
Quotes
Luke: I have girl eyebrows!                    
Emma: I have nothing to wear!
Zuri: You're all eating my homework!
Ravi: I am not ready!
---
Jessie:I'm not going to yell,I'm not going to yell! (Screams in the elevator)
(Kids move their shoulders and smile and walk away)
Gallery
| | |
| --- | --- |
| | To view the Morning Rush gallery, click here. |
References
Videos