Lights, Camera, Distraction! is the seventeenth episode in Season 3 of JESSIE and the 69th episode overall. It aired on July 11, 2014.
Plot
Jessie recruits the kids to help her direct, shoot and edit her work for a film festival. Things get complicated- will she finish her film in time?[1] .
Cast
Main Cast
Guest Cast
Quotes
Jessie: OK, you can be in it if you can tell me just one of your lines.Tony: (mouthing very slowly)
Jessie: Thought so.(walks to the elevator)
Tony: Aw, man!
(gasps)
Jessie: That doesn't count.

(Tony looks at Jessie weirdly)
Jessie: Seriously, You have a memory of a goldfish.
Jessie: Action! Whoa! (Jessie falls)
(Tony comes over)
Tony:Oh, mom! What's my line again?
Jessie: Oh, man.

Tony: Sorry, Jessie...Chantal. Who ever you are.
Jessie: Action! Whoa!
(Jessie falls)
(Tony at the door doing his job)

Tony: Hey! I'm still on the clock!
Trivia
The episode title is based on the quote "Lights, Camera, Action!".
The scene with Jessie and Tony hugging is a parody of Twilight.
Luke's car scene with Jessie is a parody of the James Bond movies.
Jessie attempted to recreate events from previous episodes, including meeting Tony for the first time (New York, New Nanny), her and Tony's first date (Used Karma), and her and Tony's first kiss in a teacup (Tempest in a Teacup).

In Used Karma, Jessie and Tony had their first date on a park bench and Jessie was wearing a hoodie. In Jessie's recreation however, Jessie and Tony were sitting on a picnic blanket and Jessie wears a dress instead.

DirecTV mistakenly classified this episode under TV-Y.
Errors
Jessie said that Tony's first words to Jessie were "Aw, man. Are You Ok?". But, in the pilot episode, Tony said "Woah, You must be a really bad tipper."
Transcript
To view the Lights, Camera, Distraction! transcript, click here.
Gallery
| | |
| --- | --- |
| | To view the Lights, Camera, Distraction! gallery, click here. |
Source
Videos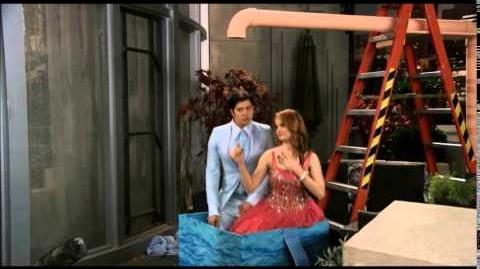 Community content is available under
CC-BY-SA
unless otherwise noted.