For the main character, see Jessie Prescott.
Jessie
Genre
Sitcom/Comedy Series
Format
Family/Teen sitcom
Created by
Pamela Eells O'Connell
Starring
Debby Ryan
Peyton List
Cameron Boyce
Karan Brar
Skai Jackson
Kevin Chamberlin
Theme music composer
Toby Gad & Lindy Robbins
Opening theme
"Hey Jessie", performed by Debby Ryan
Composer(s)
John Adair & Steve Hampton
Country of origin
United States
Language(s)
English
No. of seasons
4
No. of episodes
98 (List of episodes)
Production
Executive
producer(s)
Pamela Eells O'Connell
Location(s)
Hollywood Center Studios Stage 3/8
Camera setup
Videotape (filmized);
Multi-camera
Running time
22-24 minutes
Production
company(s)
It's a Laugh Productions
Bon Mot Productions
Disney Channel Original Productions
Broadcast
Original channel
Disney
Picture format
480i (SDTV)
720p (HDTV)
First shown in
September 30, 2011
Original run
September 30, 2011 – October 16, 2015
Chronology
Followed by
Bunk'd
External links
Official website
Jessie (stylized as JESSIE) is an American family/teen sitcom which premiered on September 30, 2011, on Disney Channel. The series was created and executive produced by Pamela Eells O'Connell. It stars Debby Ryan as Jessie, a small-town girl who moves to New York City and unexpectedly becomes a nanny to four kids portrayed by Peyton List, Cameron Boyce, Karan Brar, and Skai Jackson.
Premise
The series follows Jessie Prescott, an 18-year-old, now 19, small-town girl with big dreams who decides to leave her hometown in Fort Hood, Texas for New York City. She accepts a job as a nanny and moves into a multi-million dollar penthouse apartment on the Upper West Side with the wealthy Ross family. The family includes jet-setting parents, Morgan and Christina, and their four rambunctious children, Emma,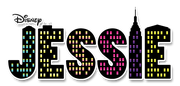 Luke, Ravi, and Zuri along with the family's pet, Mrs. Kipling. With a whole new world of experiences open to her, Jessie embarks on new adventures in the big city as she learns to rely on the love and support of the children in her care. Assisting her are Bertram Winkle, the family's sarcastic butler, and Tony Chiccolini, the building's 20-year-old doorman.
Cast and characters
​​
Main Cast
Recurring cast
Development and production
Jessie skipped the pilot phase and was directly put into production by Disney Channel. The show is taped at Hollywood Center Studios and takes place in New York City. It was announced on June 9, 2011, that production had begun on the series. Thirteen episodes were initially ordered for the first season. On July 22, 2011, when the show's freshman season was in production, Disney Channel ordered an additional seven episodes bringing the total episodes for the first season to 20. The series has since been renewed for a second season of 28 episodes, which premiered on October 5, 2012. A movie was also confirmed during its second season. On January 5, 2013, Jessie was renewed for a third season, filming started May 2013 and premiered October 4, 2013. On May 20, 2014, Jessie was renewed for a 4th season. Filming started in August 2014 and premiered in January 2015. Peyton List revealed in an interview that Season 4 would be the last season of the show. On February 25, 2015, it was announced that Peyton List, Karan Brar, and Skai Jackson would be starring in a spin-off series revolving around Emma, Ravi and Zuri and the trouble that they get into without a nanny.
Trivia
Jessie is the only Disney Channel series where the main character has already graduated from high school, but not yet college.
Jessie currently has the highest ever testing for a Disney Channel series.
Jessie has its own spin-off titled Bunk'D following Emma, Ravi, and Zuri at camp.
The most-viewed episode on its release was the episode Star Wars racking in a whopping 7.3 million viewers