Jasmine Epstein is Emma's ex-best friend because she gave Emma's fashion show ticket away so she could take an Olsen twin instead of her. She betrayed Emma for them. She is also a freshman at Emma's high school. Her first and only apearance was in Zombie Tea Party 5.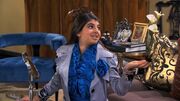 She was portrayed by Ava Penner.
Personality
Jasmine is a snobby mean rich girl who is very self-centered and cares more about celebrities and fashion than the power of friendship. She favors her material possesions over the well-being of others, even her friends. She appears to be a fan of Mary Kate and Ashley Olsen as well as Zack Posen. Jasmine apears to not like Emma's younger sister Zuri, as she used her for a coat rack in the episode. Zuri told her she wasn't a coat rack, Jasmine simply said, "You are now." Jasmine is not very loyal to Emma, as she gave Emma's ticket to a fashion show to one of the Olsen twins.
Character History
She first appeared in the episode, Zombie Tea Party 5. Her family, and/or herself, may have a butler or two because Bertram said (from what he heard from the other butlers) she was terrible. Zuri doesn't seem to like her, especially when she throws her jacket on her and makes a remark about her age, and Zuri throws it off the terrace. She cares about fashion more than friendship as shown when Emma falls down the stairs from wearing high heels and Jasmine's only action was to see if the shoes were ok paying no mind to Emma. She tells Emma that she's not invited, but she still likes her though. But she was also disliked by Emma. She strongly dislikes Zuri.
She was mentioned in Glue Dunnit: A Sticky Situation, where she called Emma, but Emma hung up and the phone got stuck to her hand. And she is a 14 year old girl who got to go see Ashley Olsen or Mary-Kate Olsen.
Appearances
Community content is available under
CC-BY-SA
unless otherwise noted.