From the White House to Our House (also known as Mascot Mayhem) is the thirteenth episode in Season 3 of JESSIE and the 65th episode overall. It aired on May 16, 2014.
Plot
Zuri makes a new friend named Taylor, who Jessie connects with after learning she's a military kid like her. Jessie meets her grandmother, who tells her Taylor's birthday is coming up. Jessie and Zuri plan the party, but Taylor gets upset and runs away. Her grandmother explains that Taylor misses her mom, serving in the military, so Zuri calls Michelle Obama and gets her to fly Taylor's mother home for her tenth birthday. The entire Ross family, Taylor's family, and Michelle Obama party in the penthouse. Meanwhile, Emma is in charge of the school pep rally, and Ravi wants to be the school mascot. However, Luke auditions after learning the mascot hangs out with the cheerleaders. Luke shows off his dance moves, but Ravi makes a surprise comeback with rapping skills. However, Luke attacks him, and Ravi ends up losing, but is made the first ever male cheerleader, making Luke mad.
Cast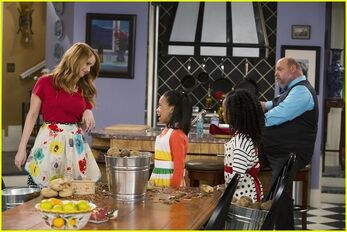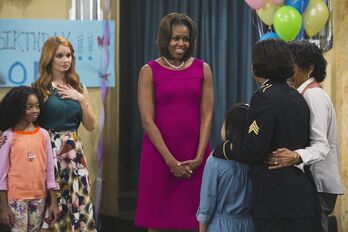 Main Cast
Guest Cast
Quotes
(
Mrs. Kipling
gives Michelle Obama cake)
Michelle Obama:
Why thank you,Mrs. Kipling.
Trivia
This is the second time The First Lady of the United States has appeared as herself on a teen sitcom. The first time was being on the former Nickelodeon show, iCarly, in the episode, "iMeet the First Lady".
The JESSIE cast also met Michelle Obama at the White House Easter Egg Roll on 4/21/2014.
According to Disney Channel the episode was originally titled Mascot Mayhem.
Luke's brief conversation with Michelle Obama near the end of the episode references the movie National Treasure as Michelle Obama replies there is no map on the back of the Declaration of Independence.
Goofs
The applause-meter has many goofs when Ravi is rapping. It starts to move when nobody is clapping. In one shot, you can see it in the background on "Getting Warm" and then it cuts to a close up of Ravi, but when it zooms out again, it is on "Hot." Also, it is said that Luke got more applause, but Ravi seemed to have more than Luke(blazing).
Transcript
To view the From the White House to Our House transcript, click here.
Promos and Clips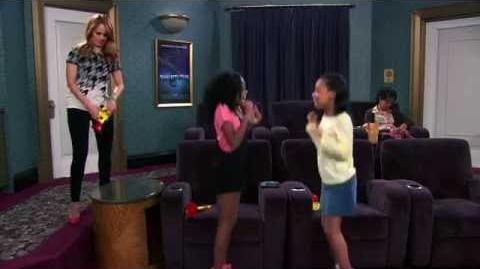 Gallery
| | |
| --- | --- |
| | To view the From the White House to Our House gallery, click here. |
Source
Community content is available under
CC-BY-SA
unless otherwise noted.