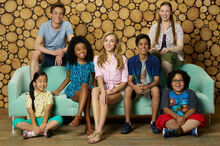 Bunk'd (stylized as BUNK'D) is an American television sitcom. The series is a spinoff to the sitcom JESSIE, which is a TV show that has aired since 2011 on Disney Channel. The show will follow Emma, Ravi, and Zuri Ross leave New York and head off to a summer camp in Maine, where their parents happened to have met as teenagers. Along with their new friends, they try their best to adapt to their new lives at Camp Kikiwaka. The show premiered on July 31, 2015. The show was renewed for a second season on February 29, 2016. The show was renewed for a third season on August 31, 2017.  The third season premiered on June 18, 2018. The show was renewed for a fourth season on November 15, 2018. The fourth season premiered on June 20, 2019. The show was renewed for a fifth season on February 24, 2020.    
Premise
Emma, Ravi, and Zuri Ross have left their New York penthouse for a summer at Maine's rustic Camp Kikiwaka, where their parents met as teenagers. Now CITs (Counselors In Training), they must learn the ropes from the overly cheerful head counselor Lou and the camp heartthrob, Xander. Zuri makes new friends with two younger campers, the uptight Tiffany and compulsive fibber Jorge. The camp's owner is Gladys and she's even scarier than the legendary creature that's rumored to stalk the grounds, and with help of her sneaky niece Hazel, she's out to get the Ross kids because of her decades-old rivalry with their mom. In the third season, they bond with new campers Destiny, Finn, and Matteo. Along with their new friends, Emma, Ravi, and Zuri adapt to their new "home away from home" and settle into their exciting new lives at Camp Kikiwaka. (Seasons 1-3)
After purchasing Camp Kikiwaka—for one dollar—from the Ross siblings, the always cheerful Lou is adjusting to her new duties as a camp director with her usual brand of over-the-top enthusiasm. She's thrilled to be reunited with campers Destiny, Finn, and Matteo, who returned for another exciting summer full of fun and friendship. Lou also welcomes some new faces, including camp counselor Noah, an upbeat and enthusiastic actor from Hollywood; Ava, a tenacious counselor from the big city; and Gwen, an eccentric new camper who has spent her entire life living off the grid. Together, they have a summer filled with fun and excitement. (Season 4)
Back for another exciting summer at the sometimes struggling Camp Kikiwaka in rural Maine are the enthusiastic camp owner/director Lou, counselors Ava and Noah, and returning campers Destiny, Matteo and Finn, who are all ready to tackle new and hilarious adventures. As the new camp season begins, they are thrilled to welcome former counselor-turned-fashion-designer Emma Ross, who pays a surprise visit to her old stomping grounds. They also welcome witty and charming Parker Preston, who arrives to stake his 15% claim to the camp and brings his own over-the-top ideas that don't necessarily mesh with Lou's, much to her consternation. Meanwhile, Destiny takes on more responsibilities while she pursues her newly discovered passion for protecting the environment. Matteo impresses his fellow campers with his professor-level scientific expertise and Finn continues to charge fearlessly into adventures. Although Ava and Noah have gained confidence in their second year as counselors, Lou soon presents them with a daunting challenge: supervising the new "PeeWeeWaka" day campers, a fast-moving pack of energetic eight-year-olds who always keep them on their toes. (Season 5)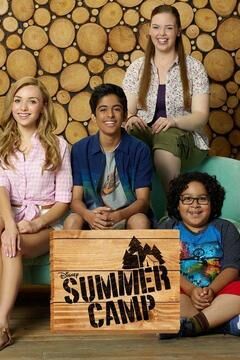 Cast
Main
Peyton List as Emma Ross (seasons 1-3) Special Guest (Season 5)
Karan Brar as Ravi Ross (seasons 1-3)
Miranda May as Lou Hockhauser (seasons 1-5)
Kevin G. Quinn as Xander McCormick (seasons 1-2)
Nathan Arenas as Jorge Ramirez (seasons 1-2)
Nina Lu as Tiffany Chen (seasons 1-2)
Mallory James Mahoney as Destiny Baker (seasons 3-5)
Raphael Alejandro as Matteo Silva (seasons 3-5)
Will Buie Jr. as Finn Sawyer (seasons 3-5)
Shelby Simmons as Ava King (seasons 4-5)
Trevor Tordjman as Parker Preston (Season 5)
Israel Johnson as Noah Lambert (seasons 4-5)
Scarlett Estevez as Gwen Flores (season 4)
Trivia
BUNK'D is now an independent spin-off series since Emma, Ravi, and Zuri left the show in it's fourth season.
In Latin America, the series is called Acampado which means CAMP'D.
There is a 2-part crossover between Raven's Home and BUNK'D titled: "Raven About BUNK'D"
The crossover takes place in both of the fourth seasons of the two shows.
Luke Ross makes two appearances in the entire series.
Bertram Winkle makes an appearance in the Season 2 premiere.

He also was mentioned by Emma in a Season 2 episode.

Mrs. Kipling makes an appearance in a Season 4 episode.
Emma Ross makes a special guest appearance in the Season 5 premiere since her last in the Season 3 finale.
Jessie is the only main character to never made an appearance on Bunk'd.
Community content is available under
CC-BY-SA
unless otherwise noted.