"
That doll dresses better than I do!
"

Are You Cooler Than a 5th Grader? is the tenth episode in the first season of Jessie. It first aired on January 20, 2012 to 3.33 million viewers.
Plot
Ravi deals with the trials and tribulations of adjusting to his new American school. After taking Jessie's advice, he starts acting like Luke in order to fit in with the crowd. Zuri learns the value of a dollar when, and against the wishes of Chesterfield they set up a lemonade stand in the lobby of their building. Meanwhile, Emma gets new high heel shoes and wears them to school, even though Jessie told her not to, and ends up not being able to walk and going to the nurse 3 times.
Cast
Main
Recurring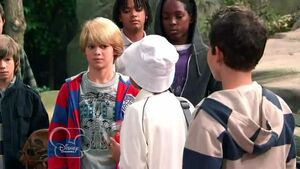 Guest
Special Guest Star
Quotes
Finch
: How do you even know
him
?
Luke: I don't, really. He's my dad's... friend's... cousin's... dog's... neighbor.
Ravi: Wickets are almost in! (metal clangs, water spraying)
Luke: Oh no, you busted a sprinkler pipe!
Finch: Oh, great, Luke! Your dad's friend's cousin's dog's neighbor just flooded our field! Let's go, guys.

Ravi
: (water sloshing) Hello? Guys? Are we now playing hide and go seek? I am afraid they are now playing hide from the geek.
Luke
: (in an Indian accent) Wait! I am the one who insulted your womanly mustache!
Ravi: No, it was me.

Luke
: It was me, I tell you.
Jessie: Noses are overrated anyway. Just ask Voldemort! Zuri: Don't say his name!
Jessie
: There, how does that look (puts up sign on lemonade stand)
Zuri: Is that supposed to be my handwriting?

Because I know which way my E's go.
Jessie
: (to Emma) You're gonna have to do your duty in flats.
Luke: You said doody.

Jessie:
Get dressed.
Trivia
Goofs
Transcript
To view the Are You Cooler Than a 5th Grader? transcript, click here.
Gallery
| | |
| --- | --- |
| | To view the Are You Cooler Than a 5th Grader? gallery, click here. |